Remembering Tim Fountain
By Tom Whitney
Tim was a different drummer living very light on the land and creating rhythms of his own. My good friend recently hung up his Mardi Gras shoes for the last time.
Gathering materials to prepare a flyer for the memorial service I collected snapshots from some of Tim's friends.
Gerdine Markus had a great picture of him drinking coffee and talking at Bear's Café. That is where I met Tim. We both liked to read books and for the last seven years would sit at the same table a few times a week and do that, unless we came up with some interesting item to talk about.
April, Tim's former wife of 25 years ago who lives on the Big Island now, had a fun picture of him standing on his head. She said he was very fun-loving in the early years she knew him. Among his things I found a picture of him acting in a Shakespeare play at the East Hawaii Cultural Center, which he loved, along with musical theatre. He told me once a woman had complimented him by saying he played and sang the lead role in the Fantastiks better than Robert Goulet, the well known singer whom she had seen play the role on Broadway.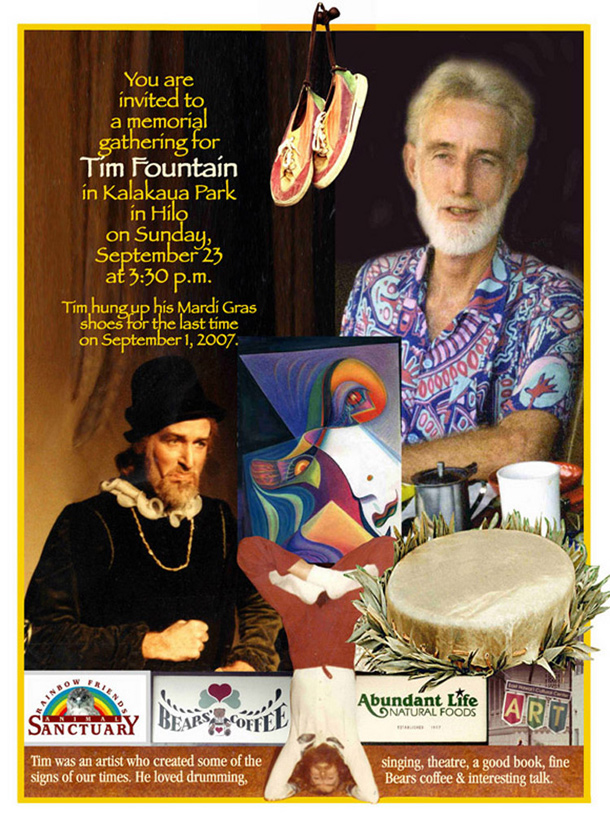 Tim's passion was drumming and many times he explained the intricacies of the rhythms he played. He showed me how he could pick out the sounds of pigeons and koki frogs and translate them into drumbeats and rhythms.
I combined the pictures I could find with pictures of signs Tim had designed for local businesses and made his flyer.
He had no living family and it was left to another friend and I to clean his attic apartment and dispose of his things.
Being a graphic designer, he had many sketchbooks and folders with old art work. He had framed one piece and hung it on his wall. In one sketchbook there was a very beautiful and accomplished piece in colors done with oil pastel.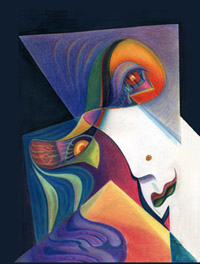 I saw this and immediately thought of the fine feather mask work done by Daniel Artt, who also recently passed away. Through some mysterious nerve disease Daniel had become a quadriplegic. Daniel and I had started to work on a book of his unusual creations, of which he had saved photographs. But Daniel passed on before we got very far. Both Daniel and Tim had come to Betsy's and my house one Thanksgiving. (Fair warning to anyone else invited to our house on turkey day.)
I started thinking that both of these artists had not achieved much recognition during their lifetimes and here I sat with the records of their creations. What could I do?
Some old newsprint notebooks of Tim's writings had been burrowed through by
termites. As I continued examining Tim's art I finally opened the largest package and the first drawing in the largest sketchbook had been crunched at the top and had been attacked by termites that had taken over the storeroom in Tim's attic.
It was a hauntingly beautiful charcoal self-portrait of an alert but sad Tim looking to the left. The termite burrows were extensive across the upper part of his face. Here I was looking at the art of a man who had been very depressed for years and wanted to die – as he had expressed it in his writing: "Ah, Death, what's taking you so long?" - and here the termites had unknowingly cooperated in stark graphic form capturing and deepening Tim's somber mood in his last years in what I consider a masterpiece.
Taking this all in, I decided then and there to find support for a museum or gallery show, maybe a book, with the title "Forgotten Artists."
If a show occurs I want to give Tim and Daniel's art to a museum or the university so the fruits of their creative work will live on. For Tim this has meaning to me because he did not believe in the preachings of religions about an afterlife. And if there were income because people were interested in their artwork or a book that contained them, perhaps I can identify some kind of fund to which we could give the proceeds if any to benefit artists who are down on their luck. For example, Daniel could have used a good computer setup with a laptop with assistive mechanisms to help him type his story with his one functional hand and go on to do art on the computer. Tim would probably have been cheered by learning that people liked his work.
Tim created a graphic that recalled a colorful person named Travis who was a well-known habitué of Hilo Streets for decades. He would come up to our tables as we sat at Bears and say something like "Travis - No Resign!" or some other enigmatic remark. Then he would ask us for a quarter. Sometimes he would talk about the Marshall Islands, where he was from. He would mention the hydrogen bomb tests that were conducted there. Travis seemed to be a generally happy person and exhuberant and emphatic in his statements. But he frightened some people sitting at Bears. I remember he eventually changed his ways toward Tim and myself. I told him one time that he was not being fair because he was always asking us for money but he never gave us anything. The next time I was sitting there I happened to be out of cigarettes, and who should come by but Travis. He came up to me, whipped out a pack of cigarettes and offered me one! I gladly accepted. You had to love the guy. In the future he was much more generous as well. It was my first time affecting the behavior of a street person. He lived about a mile up the highway from downtown and was struck by an automobile one fateful day.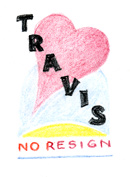 Tim saw religion as the breeding ground of hypocrisy. It was left to me - another atheist and a constant friend in his last years - to organize his memorial in light of that. No hypocrisy, no minister, just a gathering of friends in Kalakaua Park to remember a nice man we knew as a quiet conversationalist, an actor, an artist, a designer of some of the signs and posters around our town and a person who was a different drummer living very light on the land and creating rhythms of his own.
I liked the cadence and smile of this poem of Tim's: "Yum, yum yummy. / Look at those legs . . . / look at that tummy . . . / Have you ever seen / something so yummy? / Yum, yum, yummy.